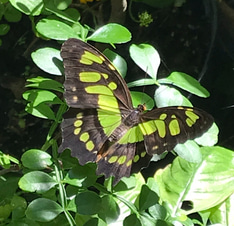 My very first essay was published in The Staten Island Advance in a column called "The Women's Forum." The essay was very cathartic for me as it allowed me to express my shock and sorrow for a young bank teller who had suddenly passed away. A few days after the essay had been published, the family of the young woman reached out to me and expressed their deep gratitude for the tribute to their wife and mother, and it was at that moment that I knew what I wanted to achieve in my life.
I have written essays about parenting, marriage, jury duty, work, etc., and received mail from readers who thought they were alone in their feelings, whether negative or positive, and were grateful to learn they weren't. Sometimes my essays were humorous, but often they were an outlet for me to release my personal frustrations, mixed at times with sadness and regret, but all with the end goal of achieving a form of therapy for me and, hopefully, anyone kind enough to read them.
That being said, not all my writing stemmed from an altruistic source. I tried my hand at many genres of writing which you will see in my writing bio. But the point is, it's a great feeling knowing you have made someone feel better about themselves and I have been this person my whole life, both in my writing and most of my relationships.
As well as blogging, I will on occasion post a new or past writing which I hope you will find entertaining and/or moving. I'm also considering doing some writing exercises for those who need a bit more motivation (including myself at times), with the option of sharing our work and receiving some gentle critique by the readers willing to participate.
Just so you know, the career that paid my bills was as a secretary, basically in every shape and form - legal secretary, administrative assistant, school secretary, and executive assistant to the city manager. I've been fortunate in that I was always treated with the utmost respect and involved in ways more than my job title would suggest. My opinions were often sought out and I always provided them honestly, trying to be fair to all parties involved. The truth is, I always wanted to be a psychologist, so I never really felt I had met my potential. Then I discovered writing, and it changed my life.
To date, my published credits include a story in Chicken Soup for the Expectant Mother's Soul, which was also used by a calendar company (Year in a Box) and appeared on the Chicken Soup Website as a featured story. I have had several stories published in The Star, True Love, True Story, and Romantic Interludes. I have had many articles published in a column for women in the Staten Island Advance, as well as commentary pieces. I won third-place in a New York Times - Columbia Pictures 100-word fiction contest based on an unrequited love for a promotion of the movie Age of Innocence and first-place in a writing contest for Housewife-Writer's Forum. Staten Island Parent has published both an article and a poem I have written, and I have had two of my short stories recited by the Staten Island Shakespearean Theater Company at Snug Harbor Cultural Center in Staten Island. I've been published in Turtle Magazine for Preschool Kids and online at WeeOnesMag.com. I have also written several articles for a magazine entitled Newborn News, and Writer's Journal has published two of my poems. Boys Quest published a poem in their baseball issue and that poem was used for statewide educational testing, as well. I won first-place in a Redwritinghood.com flash fiction contest and I am featured in their anthology. I also wrote medical scripts, which appeared daily on CBS news for John Biffar in Southwest Florida. One of my fiction stories was selected to be performed by the Gulfshore Playhouse at the Alliance for the Arts in Fort Myers, Florida, and I was a finalist for the 2019 Brooklyn Film true essay contest and had my essay read by Brooklyn Film at a public forum. I've also had a few 10-word stories published online in Potato Soup Journal, a 101-word story published online in 101 Words, an Op-Ed in the News-Press, and ranked in the top 10 in a fiction competition for Florida Weekly, where I was featured and published.